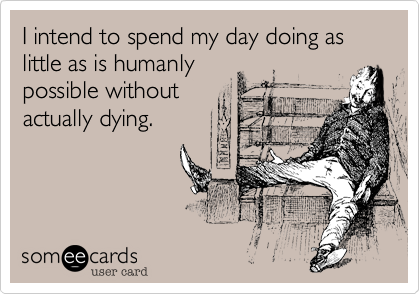 I'm so glad it's Friday. This week, between working, therapy, and the brace I have to wear at home for my knee, has kicked my ass and I'm exhausted. Like, so tired that I took a full hour for lunch and laid on the break room couch for most of it. #agirlsgottadowhatagirlsgottado
Andi and Josh from The Bachelorette broke up yesterday and I feel like it personally devastated my life in a way that is unacceptable for a 28 year old. I do this every.single.time. I get emotionally invested and then terribly upset when (shocker) it never works out. #ithurtssobad #whyamimarried #justkiddingilovemyhusband #butgodjoshmurrayissofine
Our friends R+K got married in December and tomorrow we are having a party for them to celebrate. These are two of my absolute favorite people ever so I can't wait to celebrate their marriage and the fact that we are now all old, married people. #wifeystatus
Until said party, I intend on doing exactly as that e-card says. Bum Leg= Bum Meg. See what I did there? #lazydays #funnygirl
I have a love/hate relationship with some people's blogs. I won't say who, I doubt they read mine anyway, but still. Like, I can't stop reading them but they drive me crazy and I want to hate them! But I can't stop reading them. #howdoesthisevenmakesense
I cut my hair and I wish I hadn't. I love my hair stylist (like, adore her to the moon and back) and she did a fabulous job, but I may have been feeling a little too adventurous and now I can only really wear it one way. Maybe I should just play with it some more. #beautyblunders
Before I end this totally pointless post, I just want to say thank you to everyone who has left me comments on my last two posts. It reminded me just how much I really, really missed you guys and what a little family I have here in this blog world. I'm glad to be back around these parts.
all my love, always